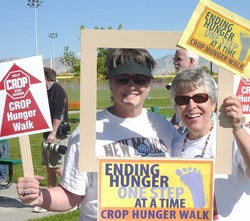 CROP Walk
We have been contacted by the representatives of Koinonia Church to see if we would like to assume the major organizing role for a 2015 CROP hunger Walk campaign. Last year we were designated co-organizers but the Koinonia people did the yeoman's work. There is a great framework to make this year much easier for organizers. There are several roles requiring volunteer leadership:
1.Recruitment – contacting church, civic, school groups to do fundraising within their organization. There is a great data base with contact info. for over 125 local groups.
2.Business sponsorship – soliciting financial support via donations & donation boxes at retail locations.
3.Promotion/Publicity- developing plan to relate ongoing campaign & to get walkday media exposure.
4.Web activities- update existing website, utilize social media and obtain online donations.
5.Education- develop activities/ materials to make the public aware of hunger and sustainability efforts needed.
6.Walkday logistics- accommodate registration, safety, all activities on the actual day of the walk.
7.Treasurer- maintain fund collections, do reporting and remittances to Church World Service (CROP hunger Walk's operating agency).
UUCGV needs commitments for some of these leadership roles if we are to be a co-organizer. The campaign and planning would start soon and culminate in a mid- October walkday. Some Koinonia and other churches/groups may have volunteers willing to assume some of the leadership roles mentioned. If you are able to assume a role contact Joel Prudhomme (
jphomme@earthlink.net
; 970-628-4699) ASAP. Church World Service will need to know details of a Grand Valley 2015 campaign before mid-June.