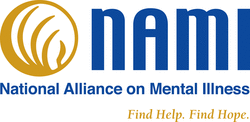 NAMI Western Slope
NAMI Western Slope is the local affiliate for the National Alliance on Mental Illness. We are made up of families, friends and individuals living with mental illness.
What is Mental Illness?
Mental illness is a biological brain disorder that disrupts a person's thinking, feelings, mood, ability to relate to others and/or daily functioning. It often makes it more difficult to cope with the ordinary demands of life. Mental illness is a medical disorder, just like cancer, diabetes or heart disease. Most importantly, mental illness is treatable. The stigma that comes with a mental illness diagnosis can keep people from seeking treatment, however.
Mental illness can affect people of any age, ethnicity, religion or socioeconomic status, and it's found all over the world. In Colorado alone, an estimated 200,000 are affected.
NAMI provides free assistance for mentally ill people and their friends and family through education, support and advocacy.
NAMI Walk
NAMI Western Slope will be having our annual Walk, which is our major fundraiser, on Saturday, May 16th. It's a fun family event! If you would like to participate in the Walk, as either a walker or a donor, please contact Jan Lewellen at 314-9716 or
jlewelle@bresnan.net
.