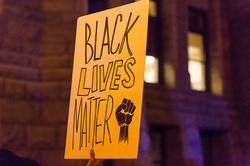 MLK Youth Summit: The Sleeping Giant, Or Why Black Lives Matter Location: First Unitarian Denver, Jan 16, 2016 @ 2:00 pm through Jan. 18th, 2016 @ 12:00 pm. Cost for this weekend-long event, which includes meals, is $50 early or $60 late registration.
Each year at First Unitarian Denver there is an anti-oppression / social justice overnight for youth culminating in the parade march on MLK day. After 6 years of incredibly successful programming ranging from economic justice to GLBTQ bullying to immigration justice to racial equality, MDD has expanded this event to encompass 3 days of growth, learning, activism, and advocacy. This year, the MLK Summit will focus on Black Lives Matter. The Denver poet, Suzie Q, has written an amazing song with the help of NO Enemies (Flobots) promoting racial activism. The words go, "I am a sleeping giant, there lives a riot in my bones." Suzie's words are a call to action in the work against oppression. And, as a faith community, we are called to work for an end to the injustices faced by people of color in our communities, so that every person is treated equally and has a fair chance at life.
Outside of this intentional learning, there will also be free time, non-themed workshop time, and opportunities for youth to connect between tracks and share about their experiences. Will you join with us to make a difference in our world?
Registration has THREE steps! Go to
www.mdduua.org
for registration and more information.