DVAT - Domestic Violence Action Team

We meet the third Friday of every month at 4:00 at UUCGV.

Contact Jana J. or Janet K.
---
---
​UUs Giving Back: Victim Advocates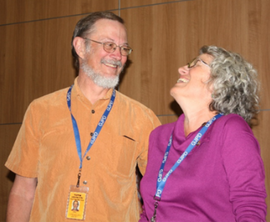 Last month, Connie and Gary Dolezal, along with 20 other volunteers, were recognized by the Grand Junction Police Department for their service as Victim Advocates. Both were founding members of our UUCGV Domestic Violence Action Team (DVAT) formed early last year. Shortly thereafter, both found the Police Department's Victim Advocate Program (VAP) to be a direct, hands on way to deal with domestic violence and other crimes in our city, specifically by helping victims. This is immediate help, moments after the crime has been committed and police have just arrived on the scene. At that point, the VAP volunteer is the only one a victim or victims can turn to apart from the police officers. Through training and ride-along orientations in police cruisers, VAP volunteers learn how to respond compassionately and effectively to victim needs amid the confusion, shock and pain at the crime scene. In the process, they gain a deeper understanding of how community works or doesn't work for its citizens and the challenges facing law enforcement as it seeks to serve and protect all of us. As Gary told us a year ago at a UUCGV worship service devoted to DVAT, "I cannot eliminate domestic violence; yet, I hope to help the victims through some of their pain…Through the Victim Advocate Program (VAP), I find that there exists a community of concern, of compassion, of integrity that is actively working to reduce the effects - and the incidents of domestic violence in the Grand Valley…The pervasiveness of domestic violence is thankfully being recognized by other faith-based groups in the Valley. Collaboration is on the horizon. There is work to be done. The story continues …" If you are interested in working with VAP, by all means talk to Connie or Gary. Or better yet, contact Mary Harmeling, Victim Services Coordinator at the Police Department at 970-549-5290 or email at maryh@gjcity.org.
---
---
---