​Teen Program
---
Youth AKA YRUU AKA Young Religous Unitarian Universalist (Ages 14-18)
---

Sunday Morning Programs

Each month the Youth will join the congregation upstairs for All Ages Worship Services. On the remaining Sundays Youth will meet with the other kids for Children's Chapel. After Children's Chapel the youth will either remain with the group for interesting workshop activities, or go to the YRUU room to hold fascinating discussions with their advisors.

---
---
Youth Cons (Conferences)
Visit
https://www.uua.org/pacific-western
for more info!
Mountain Desert District UU Youth Event Dates and Locations:
​March 31 - Apr 2, Bridging Con at Foothills UU, Fort Collins, CO·
​July 2 - July 8, Quuest and Spirit Quuest Camp at La Foret Camp and Conference Center, Black Forest, CO
---
​Youth Con: MLK Weekend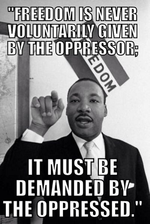 Youth Con: MLK Weekend
January 14-16, 2017, First Unitarian Society of Denver, CO
Youth and Youth Advisers are invited to an anti-oppression-social justice focus overnight. As a faith community, we are called to work for an end to the injustices faced in our communities, so that every person is treated equally.
Early Bird (Applications received by Dec. 21) - $50Regular (Applications received Dec. 22-Jan. 4) - $60Registration deadline is January 4th.
Register online:
https://www.uua.org/pacific-western/calendar/mdd/md-mlk-youth-con
---
UU Youth Rock Denver MLK Marade! (2016)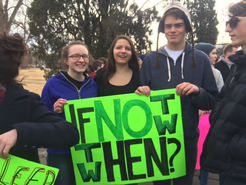 Two of our congregation's youth, Ben Leinbach and Rudy Miller, joined around 80 other Mountain Desert District youth at First Unitarian Church for the annual MLK CON (conference). The UU youth spent the weekend discerning their feelings around Black Lives Matter, MLK, and anti-racism work. We met leaders from Denver's Black Lives Matter 5280 group, we learned songs and chants with Jonny Five of the Flobots, and made bright signs to carry in the Denver Marade (March/Parade). After a challenging process, the decision was made by the youth to participate in civil disobedience with the Black Lives Matter 5280 group. They left the prescribed parade route, blocked traffic and ended up leading the Marade with BLM 5280! The Marade is "officially" led by local dignitaries including the black Denver Mayor who is not serving people of color well, so one chant was "If you won't lead, we won't follow!" Be inspired and proud of these youth! To see more photos, and videos go to the Facebook page YRUU MDD.
Denver Post:
http://www.denverpost.com/news/ci_29399999/denvers-mlk-marade-draws-thousands-honor-civil-rights
---
Reflections from Ben (Pictured Above)
Over Martin Luther King Jr. weekend, Shari, Rudy and I attended the MLK youth con. We stayed at the First Unitarian church in downtown Denver. The theme of this con was black lives matter, we learned how being a person of color can affect someone's entire life, for instance, we did an activity where there were different characters that all went to the same school, but had different descriptions. There was a white person, a black person, a gay person and a person with a learning disability. They were all thrown into a scenario, and each person had a different probability of doing well, or doing poorly. The white kid had roughly an 85% chance of success, and the black kid had about a 20% chance of succeeding. This really showed me how hard it is to be a person of color.

After going through multiple activities similar to this one, we marched in the MLK day marade (march/parade). Having been through this weekend, I had a whole new perspective on this subject, which caused me to feel very passionate about marching for black rights. The weekend was a great learning experience and I had a great time. I am very glad I got to be a part of this event, and to participate in it with 100 other like-minded people was one of my favorite experiences.
---
CON Report:
Building not broken! Kitchen meets challenge! Wow 100 Youth and Advisors stayed 2 nights all over the floors at UUCGV in October 2015.

The Mountain Desert District Youth led the event with aplomb. The Adult advisors stepped back and allowed the teens to be teens. Relationships were solidified, new friends were met. Jumping crowd bent floor during Dance, electronic equipment judged "not loud enough" for proper youth dancing. Basement floor found to be disgusting after Youth stay up and snack all night long. Cleanup "MIRACLE" amazes all.

CON Volunteers

Our Congregation provided 18 Kitchen Volunteers, who shopped, set up, took down, and served all the meals! Saturday supper was completely provided by Our Members! Thank you to Robert McDonald for being the kitchen facilitator, and to everyone who brought food or helped! Forgotten broccoli made a stink one week later.


---
---