Children's Religious Education
​Our Children and Youth programs seek to provide spiritual growth and learning for adults, families, children and youth. Kindergarten through Youth plus adults will partake of multi-age activities offered on Sunday mornings.

---
​A New Year A New Paradigm
We're excited to present a new paradigm of Faith Formation for our children and youth! In alignment with our theme this year, Living Into our UU Principles, the children and youth will be participating in interactive projects combining media, our principles, and connection with our faith community.


---
March 2018
During the Month of March we are looking at the UU Principle "Inherent Worth and Dignity of every Person" which fits perfectly with the Faces and Voices Exhibit which will be visiting our church from March 1-14. This display of photographs, writings and recordings highlights the experiences of people who experience homelessness. These first person accounts and images are meant to inspire thought and develop empathy for people who live without a home. We will be working with curricula from the Faces and Voices folks during the first half of March. Then we will hear about a young girl from Hiroshima who inspired an Origami Crane Peace movement. Lastly we will wonder about what it means to be treated with respect for ones worth and dignity.

---
---
​Check, Check, Check In!
Our children now join us for the beginning of the service. Please check your children in each Sunday morning in the Foyer.
---
Childcare
Childcare for babies, toddlers, and preschoolers is provided from 10:00 am to noon each Sunday. Childcare is provided by Robintix Perryman.

---
Have an idea for a project for our children & youth?
If you would like to help make our RE program thrive this year, please contact Shari Daly-Miller. Our children always need loving adults to help guide them. We're in search of "Project Managers" to lead for 4–6 weeks. Managers would lead interactive projects using your own skills and interests. Can you make a movie? Do you know how to create a blog? How about music production? Cooking? Contact Shari at
dre@grandvalleyuu.org
or at
970-257-0772
.
---
---
Childcare Provider Needed
---
From Your Religious Education Coordinator - Out of the box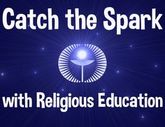 Out of the box is what we're looking for.
Using the Sunday School methods from the previous century is kinda boring, so we have decided to try some new things. This year instead of classrooms separated by age, and curricula that everyone has to sit through, we are going to work on Experiential Projects. These projects will be woven with the concepts found in our UU seven principles. Our first project is a "Geo-tracking" activity that will use our 6th principle ("The goal of world community with peace, liberty, and justice for all") as its topic! I can't wait to tell you more about it in your next newsletter.
​Thank you to all the parents and kids who came to our parent planning meeting in July. That input and encouragement will surely make this year in RE fabulous! Don't forget Sundae Sunday, August 27. We will be having ice cream after church, and we will be signing up students for the coming year. We want to be sure we have families' updated contact information, permission to occasionally go offsite, and permission to take photographs since we plan to do photo and video documentation this year.
​In other news there is an OWL Sexuality Education Planning team forming, which will be organizing this year's classes, and training new OWL facilitators. Contact Dave Miller if you're interested in joining this team atdavidrudolphmiller@gmail.com or at 970-361-2737. There seems to be interest and numbers enough to do an OWL program for the 4-5th graders and for 10-12th. FYI OWL is never held on Sunday morning because it is a closed class.
~Shari Daly-Miller
---
---
---
---