Services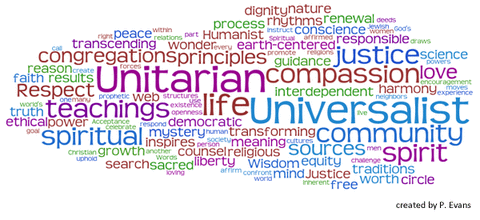 Our Worship Practices
Unitarian Universalist worship services are similar to most Protestant and Catholic services, with some important differences. We follow a typical order of service, with readings, music, community sharing, hymns, and a sermon. Because of our theology, however, the content of the service is different from what you would experience in a Protestant or Catholic church, a Jewish Synagogue, a Buddhist temple, or other religious groups.
We study all the worlds religions, and are also influenced by humanism and earth-centered religious teachings. Thus you will find a broad mix of religious traditions and teachings in our services.
We place a high value on music, so you will hear music of all types, especially classical music, being performed. Unitarian Universalist have their own hymnal, with traditional and modern songs, many with uniquely UU wording and arrangements.
See the UU Beliefs for more information on Unitarian Universalist beliefs.
See the Flaming Chalice for an explanation of the symbolism.
Membership Information
Membership requires a willingness to give of your time, talents and treasure as you are able. Are you interested in becoming a member of our church call the church office, 970-257-0772 ext. 1 or email
administrator@uucgv.org
.
---
---
See our Worship Schedule!