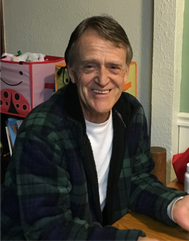 This is a monthly column helping us to get to know our friends and members in a deeper way. We thank Monte High for taking the time to do these in-depth interviews for us every month.

Steve is six years old. The nice man squats down so he can see him better. "Hi Steve, my name is Sterling", shaking hands. "How would you like to see some gemstones and dinosaur bones?" he asks. Steve nods his head yes and his mother says goodbye as Sterling motions him into the shop. The counter against the wall is piled with different kinds of small stones. The excitement shows on the boy's face as he examines the rocks. And dinosaur bones!
Sterling picks out a rock that is a piece of dinosaur bone and motions Steve over to another table. "This is where I make jewelry" he says. Together they polish the dinosaur bone. And then they move a ways down the table where Sterling does the silversmithing. Steve watches as he makes the dinosaur bone into a pendant. He puts it on a chain and hands it to Steve. "This is for you", Sterling says. The boy's eyes get big. And a smile as big as the world!
The following week Steve's mother stopped by and thanked Sterling for what he had done for her son. She told Sterling that Steve took his dinosaur bone pendant to school for show and tell. It sparked a class discussion on dinosaurs. The kids all crowded around wanting to see his pendant. "Wow that's so cool" they said. Steve was the most popular boy in class.
This is one of Sterling VanWagoner's favorite memories because it shows how a simple act of kindness can impact another's life. Sterling has an overriding desire for everyone to experience joy in their life.
Sterling grew up in Washington and St. George, Utah. Sterling's mother was Catholic and his father was Mormon. During his teen years, after his parents were divorced, he would spend one weekend with the Mormons and the next with the Catholics. He recalls a splendid childhood. He remembers pretending to be a rock star from an early age, playing music with anything he could get his hands on, including pots and pans, which tended to annoy his parents.
Sterling would experience life as a rock star. Hair down to here (placing his hand to the small of his back). The girls fluttering around. He was the drummer; they called themselves Star Fire. They played hard rock/psychedelic music. The band would attain a modest amount of fame, playing in Las Vegas and touring around the country. St. George put on a welcome home parade and Star Fire performed on Main Street.
Sterling liked to cook, so one night when the band was on tour he cooked a meal for them all. Everyone liked it so much that Sterling ended up cooking many meals for the band along the way, trying out new recipes. The band ended up settling into Florida, performing in the Tampa Bay area. Sterling loved living in Florida.
When the band folded up, Sterling opened up a restaurant on Anna Maria Island. He was the head chef and used his own recipes. Yet, after a few years the restaurant went out of business because of mismanagement by his business partner. So, Sterling decided to go back to school. He enrolled at Florida University, where he got a degree in small business administration and studied music composition. He got married, and has two children – Geovoni Sterling and Shaylah Marie.
The family picked up and moved to Salt Lake City to be closer to his wife Lori's family. Sterling dabbled in music and worked with the local talent agency, recording and promoting local artists. He learned to make jewelry and loved hiking in the hills hunting for rocks and dinosaur bones.
Yet, Sterling's marriage began to fall apart. Lori and he eventually divorced. It crushed his spirit – he wanted to remain married, believed in the commitment of marriage. He tried to remain in Salt Lake to be near his children, but suddenly realized he had to get away. Something inside of him broke and collapsed. He stuffed what he could into a bag and hit the road. Homeless.
The streets eventually brought Sterling to Grand Junction, where he was fortunate to get a bed in the homeless shelter. He often found himself trying to cheer the guys up, encouraging and passing around hugs; calming violent outbursts. Sterling took up the motto of trying to reach one person every day to make them feel better about themselves.
The folks from Grand Valley Peace and Justice who work with homelessness took notice. They hired Sterling to drive the homeless transportation van and offer peer support. And Sterling met Mallory Rice, through her work with the nonprofit Solidarity Not Charity. Sterling and Mallory hit it off from the very beginning. (Sterling still volunteers for Solidarity Not Charity, and engages in peer support and mentoring. All Sterling has to say about being homeless is – it is horrible – we don't realize what we have until it is gone: the basic needs of food, water and shelter.)
Sterling loves Mallory like a sister. Her family has become his family of choice, a covenant of happy friends. He lives with them now, which is a situation that works out well for all involved. Sterling helps out with Audrey and occasionally watches Miranda's kids too. Sterling loves spending time with the children, and the children love him in return. He's 53 going on 35 because the youngsters help to keep him youthful. And he also likes to do a little cooking.
Yet, most of us know Sterling as our awesomely affable Facilities Manager; we know that we are blessed to have him, as he is a sterling steward to our beautiful building. Yet , undoubtedly many of us are scratching our heads and asking ourselves "who is this Sterling person". And that is how he prefers it – Sterling is quiet and soft-spoken. He sees himself as one of the roadies for his old band, dressed in black and doing the work in the background, unseen.
When Mallory first called three years ago to tell him that there was a job she thought he should apply for, Sterling was skeptical. It turns out that he could not have dreamed of a better place to work, better people for whom to work. He loves the congregation and fits right in with the gentle loving people.
Life goes on... in endless song...