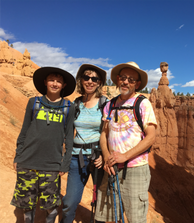 This is a monthly column helping us to get to know our friends and members in a deeper way. We thank Monte High for taking the time to do these in-depth interviews for our newsletter.

Imagine three little girls, sisters, playing "Office" – insurance office, to be more specific. Budding feminist professionals at heart, before they even understood the concept of feminism. They each had a little desk, or station, with paperwork that they passed around to each other. And a "camel" stamp to imprint on important documents. They particularly enjoyed making up names for their fictitious clients. They had a toy phone and a Blip electronic game that made noises like an intercom. I probably shouldn't mention that they also liked to play pretend-bridge while "smoking" candy cigarettes.
Janet Cummings' first choice of career was grocery store clerk, because they get to push all those buttons. As a young child Janet was fascinated with buttons, with the sound and rhythm that they created. Mom was especially thankful for this fascination after the birth of Janet's twin sisters Diane and Marjorie. Three-year-old Janet was younger than mom would've chosen to start her on the piano, but she needed something to keep Janet occupied while she cared for the twins.
Janet grew up in Greeley, Colorado. Mom taught piano lessons (and was an elementary school teacher before the children came along). Dad worked as an accountant. Janet had a very stable childhood. She was able to navigate K-12 with several of the same friends. She started playing the French horn in sixth grade middle school. Her dad took her to a UNC horn choir concert when she was deciding which band instrument to play, and she was hooked. Janet was fortunate to grow up within the Greeley music community – while walking Greeley sidewalks, music was in the air.
Janet chose to attend University of Northern Colorado because of their excellent music program. She wanted to study music even though she knew that she would never go Pro. She did not want the life of a professional musician where everything revolves around the music, requiring long hours of practice every day. Yet, she wanted music to be a big part of her life. She knew that music would benefit her well-being.
Janet met Walter at UNC. He was completing a doctorate in conducting. He was a charming, good-natured, gentle man with a melodious southern drawl. He was enthusiastic about band music, and played the slide trombone. They discovered a mutual interest in tennis and got to know one another better from opposite ends of the court, over and over reciting the words "15-love". They worked a summer music festival in Breckenridge together, where they climbed their first 14'er – and the match was complete.
While Janet was completing the final year of her "Music in French Horn Performance" degree, Walter took a job as the band director at a college in New Hampshire. Walter did not like the atmosphere of this position and decided to find a career path where the air was easier to breathe. So, when he returned to Greeley Janet and he set out upon a new path that would lead them to Grand Junction. Walter decided to try his hand at running the East Middle School Band program.
In the month of December, 1989, Janet graduated from college, got married and moved from her hometown of Greeley to Grand Junction. Janet and Walter were married in the Greeley Unitarian Universalist church. It was the first introduction to UU-ism for both of them. When they attended a few Sunday Services to check out the congregation, the minister asked for feedback at the end of one of her talks. Janet got the sense that these UU folks were living more in the moment than what she recalled of her Episcopal and Presbyterian upbringing. She was impressed because they were active participants rather than passive bystanders. (Janet started questioning the teachings of her religion of origin during a world religion class in seventh grade. It seemed to her that one's place of birth determined one's religion.)
Shortly after the move to Grand Junction, Janet met Marge Miller at a Sierra Club potluck. Marge invited Janet and Walter to a Sunday Service, and when they did not attend until six months later, Marge jokingly referred to them as "wayward Unitarians".
Yes, like many UU's, the Cummings are believers – that wilderness nourishes the soul. They are avid hikers, backpackers and campers. But the fishing is all Walter (and Sam when he became old enough). Janet is happy to cheer them along. More recently, Janet and Walter have taken up pickleball (sort of like tennis with a smaller court) for exercise and to relieve stress – and have a lot of fun in the process.
In 1992 the Cummings started their music publishing business in the basement of their home on Chipeta Ave. Janet went back to school to get a degree in accounting to get a better grasp on keeping the books. Her teachers encouraged her to go ahead and take the test to get her CPA license. This proved fortunate a couple years down the road when Janet stumbled into a job as an accountant for Community Hospital, where she still works part-time. Grand Mesa Music is now flourishing. They publish music for concert band, marching band and string orchestra. They meet composers and band directors from all over the world. Walter doesn't travel across the country as much as he used to, though he still occasionally drives the van to weekend music conferences, and he and Janet (and Sam) travel every year to the worldwide music conference in Chicago.
Along with her part-time accounting job at Community Hospital and her bookkeeping at Grand Mesa Music, Janet also works with Colorado Mesa students as an accompanying pianist (7 this year) and teaches private piano and horn lessons at home. And she plays horn for the Grand Junction Symphony (27th yr.). She is also a band parent, which she loves. Sam plays the trombone and is switching to the baritone for marching band. Janet is pleased that Sam enjoys band, so she doesn't mind being the chauffeur for his practices, and she delights in traveling to watch him perform. It is a good thing Janet likes to be busy!
Sam arrived in 2003. Janet especially appreciated the UUCGV community during this period of her life. After Sam's adoption several mothers helped ease her transition into motherhood with kind support and sage parenting advice. The UUCGV is like extended family to Janet. Many of her closest friends are members.
Janet's been around long enough to cheer for the "Rising from the Ashes" award that the UUCGV received, as well as witness the earlier period when the congregation dissolved into ash. (This experience serves Janet as an important reminder of the need to invite young families to the church.) She has been a steadfast member of the finance team, alternating in the role of treasurer, as well as playing the piano for Sunday Services – for many years. She is the standing president of our congregation, but she doesn't feel very presidential. She sees herself more as a facilitator, which she hopes fits well with our leadership model of trying to work toward consensus on all decisions. The leadership qualities that Janet has learned while volunteering for the UUCGV have proved helpful to her out in the "real world".
One of Janet's favorite UU experiences was attending a recent national UU General Assembly in Columbus Ohio. We are a little isolated out here in Grand Junction. It is comforting to witness people from congregations all across the country, gathering to celebrate and plan for the future. It feels wonderful to connect with the larger movement. GA's are teeming with energy, with a plenitude of workshops and talks to choose from. Janet was thrilled to hear a large, impressive choir backed up by professional musicians, serving the multitude with good vibrations.
Here comes Janet buzzing along, busy as a honey bee. In actuality, the buzz is more of a sweet melodic hum reverberating from a deep well of benevolent intention. She is rarely in a hurry. How she does it is a mystery. Janet is one of the most grounded individuals you will ever meet. A musical life indeed!
Coming soon – Walter is organizing a UUCGV youth/adult brass ensemble to perform during the Sunday Service on December 17.

Life goes on... in endless song...