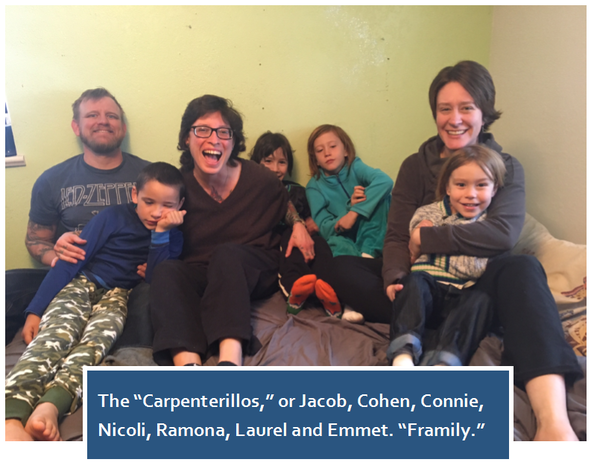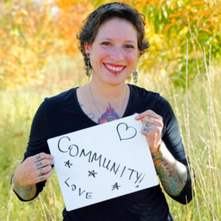 This is a monthly column helping us to get to know our friends and members in a deeper way. We thank Monte High for taking the time to do these in-depth interviews for us every month.

Connie Murrillo believes that reincarnation brings her essence around again and again to experience the awesome beauty of the earth, and that the ultimate life lesson is to learn how to love. Loving is the most courageous thing a human being will ever do. One must be fearless to love wholly and truly and realize One's essence. Thus the journey opens into her unknowing.

This time around Connie was born in Fort Carson Colorado as the oldest of four siblings, two brothers and a sister. Her parents were in the military. Connie grew out of diapers in Germany. Her parents divorced when she was five, and both parents remarried when she was seven. Connie's maternal home-base was Colorado, her dad lived in New Mexico and her stepdad lived in Texas. Connie and her crew of brothers and sisters changed addresses often. Throughout the years mom and the children moved between the households in Colorado, New Mexico and Texas.

Connie's family was a-political and a-religious. Her parents taught her to think for herself. From an early age Connie's parents drummed into her the principle to question everything – and to stand up and say something when you see something that isn't right.

In 2003 Connie moved to Grand Junction to attend Mesa State College. Shortly after her arrival, she caught fire with the desire to consciously change the world. The source is a mystery, yet she is suffused with compassion for people and the world, and feels compelled to pour out her love to improve life on earth.

After coaxing from friends, Connie gave in and agreed to attend a UU Sunday Service in 2004. It so happened that this particular service was a Lugnasadh celebration and church in the round (the chairs set up in a circle) with one of Shari Daly-Miller's fabulously decorated altars upfront. Connie was hooked!

She linked arms with the local activist group A Voice of Reason. Connie helped plan and participated in various demonstrations around town and the region, attempting to shine a light on and educate the public about various injustices. She helped publish the alternative newspaper called the Red Pill.

The Uranium Trail Peace Caravan was one of the big projects undertaken by A Voice of Reason. It took months of planning and countless power-to-the-people hours. The hours fly by when your passion shines through, and you are enjoying the time with an inspiring group of people. AVOR engaged local agencies, churches (including UUCGV) and schoolchildren, gathering to fold paper peace cranes to send to Japan. Then a caravan of vans and automobiles set off on a three day adventure, with multiple stops at uranium sites and a sleepover in Montrose, multiple stops and a sleepover in Canon City, and the long drive home. Along the way, there were ceremonies, speeches, demonstrations, and the gathering of more peace cranes. This labor of love was partaken in the name of peace, to showcase the often overlooked devastation of uranium mining, the hazard of radiation and the horror nuclear weapons.

After graduating from Mesa State Connie and her friend Jacob Carpenter took a celebratory six-week backpacking trip across Europe. The trip was centered around protests about G-8 policy – the G-8 was meeting in Germany that year. A highlight was camping for three days at Stonehenge and participating in the summer solstice celebration. During the trip Connie found out that she was pregnant with Nicolai!

Connie once had written with a sharpie "Babies against Columbus Day" on her pregnant belly during a march against Columbus Day in Denver. People stopped her all day long to take pictures. (Perhaps baby Nicolai is responsible for Denver approving the permanent recognition of Indigenous Peoples' Day?)

Connie often gathers water from streams near the sites where she participates in social activism. She collected water along the Peace Caravan and while backpacking through Europe. Water of love. Water to be brought home for the UUCGV water ceremony. Water that is frozen and carried over from year to year for the water ceremony. Yes, our ceremony water is suffused with loving, justice-seeking-evolution energy!

Nicolai was born in 2008 and Cohen followed in 2009. Though activism would remain and is an integral part of Connie's life, she chose to take a step back after the birth of her children. She wanted to be a parent first, and live collectively with other radical parents as the "Black Diaper Collective". Parenting is the most important thing Connie has ever done. Her boys are the love of her life.

Connie and Laurel co-created a women's empowerment group that meets twice monthly, setting goals for themselves and a holding one another accountable for those goals. The group also gets together every new moon, releasing the previous moon cycle and embracing a specific intention for the coming cycle.

Connie and Laurel also co-created a childcare swapping group that became much more than just a group of parents. The group bonded into close knit friends. Connie refers to them as her "framily." Pieced together with her women's group, her activist friends, and the UUCGV community, Connie opened her heart, spread her arms and created a village for herself and her children. She knows how to do community! Though Connie remains committed to social justice activism, over the years she's come to realize that the small stuff that she does to build loving relationships within her community is equally if not more important.

After graduating from Mesa State, Connie worked as a server and bartender at the Ale House. She was good at her job and enjoyed relating with her customers. Yet, she began to feel a pull toward teaching the youth. Connie was very impressed with the Juniper Ridge Community School that Nicolai and Cohen attended. It is an art and nature-based charter school. So she enrolled in the accelerated teacher program at Mesa state with the goal of teaching high school at Juniper Ridge Community School.

She thoroughly enjoyed her student teaching at Grand Junction High School, teaching social sciences and helping to devise a course in Colorado history. The aspect to teaching that she liked best was the surprising discovery that as a teacher she was learning every bit as much as her students. Connie was also impressed with the inclusive atmosphere at Grand Junction High School and volunteered with the Gay-Straight Alliance. She was thriving.

On September 23, 2015 Connie was diagnosed with stage IV breast cancer, which had metastasized to her spine and pelvis. It's the type of news that was almost too much for Connie to process, took time to process – also for her family, her framily and her village. No words.

The community rallied for their beloved Connie. She was amazed at the overwhelming level of support. It took her by surprise, the depth of support from her framily and how so many joined hands by her side. She couldn't understand what she had done to deserve such an outpouring of support. It's all about love; it's about Connie's huge heart and how she offers it to the world, how she spreads it around and brings people in her community together. The outpouring of support for Connie came as no surprise to those in her framily and community.

Connie went through aggressive chemotherapy that put her into remission. Tests showed no tumors in her body, yet the cancer was in her blood, and though there was no timetable, the tumors were almost certain to return. Remission was the best possible news. It was time to celebrate!

During this period of remission Connie was able to experience many wonders and live life to the fullest. Among her most precious memories is the trip to San Diego, to the beach and Legoland, with her boys. Two days at Legoland, two days at the beach and time spent playing with cousins – everyone had a blast.

Last month Connie learned that the cancer had returned to her body. She had a series of seizures and tests revealed 25-30 pea to walnut sized tumors in her brain. Doctors have explained that any treatment she now utilizes is considered palliative care. Connie has chosen not to undergo whole brain radiation, which would greatly alter her quality of life. She has chosen to maintain her current active lifestyle as long as possible. The new drugs she is taking are helping to keep the symptoms at bay.

Connie is at peace. She is at peace with her soul moving on to the next phase, to another realm and another life. She is beyond blessed, though she's not yet ready to let go. She has too much love for the world, for its people. The one thing that's hard to reconcile is knowing that she won't be able to see her children grow. Yet she is comforted in knowing that Nicolai and Cohen are in good hands and that they'll be well taken care of – they will be well loved, when it's her time to move on.

Life is good. She likes being around her people. She looks forward to continuing her community organizing and social activism, to fly fishing, to dancing, to another trip with her boys, to bike rides along sun-suffused sidewalks, to taking it easy and rejoicing in the small stuff. She looks forward to enjoying spring time when she will kneel upon the earth, dig her hands into the soil and plant some seeds.

Life goes on... in endless song...