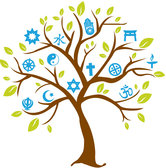 The Grand Valley Interfaith Network is thrilled to announce the beginning of an on-going series of interfaith discussions called Compassionate Conversations: An Interfaith Dialogue (Practicing compassionate communication from a faith perspective.)
The first conversation will be held on Friday, July 15, at the Unitarian Universalist Congregation of the Grand Valley at 7:00 pm.
Interfaith perspective on issues of the day: Our first conversation will be based on the question, how does/should our faith inform our decision making processes?
Keep your eyes open for more information!