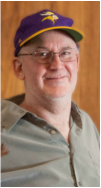 My name is Monte High. I hope to interview a UUCGV member every month for an article in the newsletter. I'm going to call the column "Revelation" (as in The UUCGV book of Revelation). I decided to kick it off with an article on our new building. I interviewed 536 Ouray this month, and well, to be honest the building rambled on and was perhaps a bit overly sentimental. Yet, nevertheless, I've copied the response verbatim.

536 Ouray

I was born in 1977, so that makes me what, 38 or 39 years old? It seems like longer, with all the multitudes of people coming inside over the years, scurrying around and doing their business.
It all started with the Mesa County Teacher's federal credit union, then the Western Rockies federal credit union moved in, then the Rio Grande federal credit union, then the Mesa County Library, and finally the strange folk of the Unitarian Universalist Congregation of the Grand Valley. As you can see, it's been quite a whirlwind. It's hard to wrap my mind around all the comings and goings. But I get the sense that it's all just getting started, the mindful bustling and inspired happenings.
Some would say that I began as a house of greed, hankering after gold and the power that it brings. I suppose there's some truth to this; yet, I prefer to think of all the teachers and their retirement pensions, all the small businesses, all the families in their new houses, and the cars getting people to work and play. I like to think I've got a lot of backbone.
Because my beginnings were in banking, my spine is about as sturdy as it gets –a vault, with 2 ½ foot thick walls made of concrete and steel rebar, extends the entire height from basement to roof.
Then I became a house of knowledge. The library used me for office and storage space. They even put in a huge conveyor belt to haul books up and down from the basement. They began feeding me books, books of many flavors – delicious. The drive-up teller window went unused, yet remained as an oddity on the side of the building. The gold in the vault was replaced with junk hoping to one day be of use.
And then I began to hear rumors of a people searching far and wide throughout the city for a place to call their own. Their emissaries entered my walls, whispering, "it has a good foundation… I think we can make it work… If we tear down that wall, and this wall, and those walls… we could make a space big enough for the sanctuary…".
They call themselves Unitarian Universalists. They took their vision and made it a practice. Building a spiritual home.
The demolition began. They knocked down my walls. They broke up concrete. They hauled out the rubble wheelbarrow by wheelbarrow. I've never felt so loved. They removed the 2 impossibly heavy steel vault doors; they removed the drive-up teller window; they removed the conveyor belt system (what to do with the hole in the middle of the floor?!). They salvaged everything that could possibly be reused.
And then they built me up. Created a welcoming space. Made me beautiful.
They gave me a glorious sanctuary, a fun and inviting religious education space, a kitchen, new bathrooms, a ramped-up altar/stage, a new lighting system, a sound and projector system, new plumbing and wiring, a grand piano, plants and paintings, and a lift to assure that the basement is accessible to all. An outdoor play area for the kids is in sight. The list goes on and on, in endless song.
It was a labor of love. Into my renovation these devoted people poured their blood sweat and tears. It was dirty, difficult and sometimes dangerous work. They gave up hours, days, weeks and months of their lives. What a wondrous sacrifice for me, for their new home, for their beloved community! I cannot thank them enough!
And now. Now. What to make of this precious now? Someone pinch me, to see if I'm dreaming? I am filled with a vibrant energy; my walls vibrate with a burgeoning, gracefully wild love: children playing, profound silent meditation, worship services, hugs and handshakes, justice work, sewing and knitting, choir, an improvisational acting group, discussion groups, support groups, a domestic violence action team, mindfulness, theater, concerts, town hall meetings, chanting, drumming, RE for children and adults, singing and dancing, sacred silence, and Our Whole Lives. The list goes on and on, in endless song.
These beautifully strange Unitarian Universalists have got me feeling all tingly inside. They are a principled lot, and they'll greet you with open arms. To all who enter my doors, they proclaim: We welcome you here… If you come here with an open mind, a loving heart, and willing hands, you are welcome here! All are encouraged to be their authentic selves. How fortunate I am that these fine folk have found me. I am found! I am filled with such an immense sense of gratitude that it's a wonder all my doors haven't blown off.
Please excuse my weeping, I find myself suddenly overcome with joy.